KEEP YOUR TOES STRAIGHT AND HEALTHY!!
👉 Research found that up to 60% of older adults have a foot disorder, which could limit their ability to get around and hamper quality of life.
👉 It often passed down from parents to children. 
👉 It causes foot pain, stiffness, redness, swelling, and even difficult to wear regular shoes.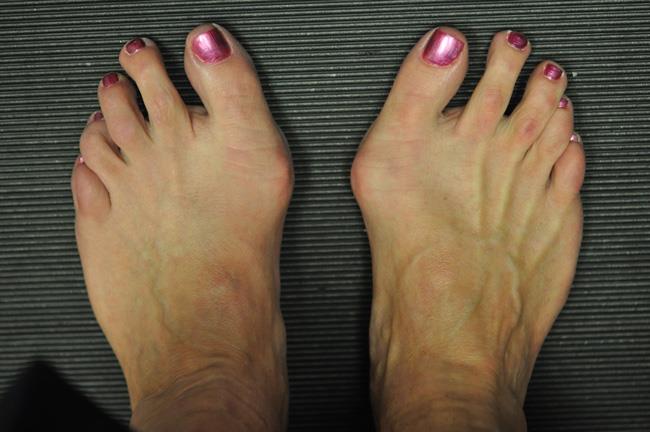 A NATURAL & PAINLESS SOLUTION IS HERE!
 Keep your toes straight and healthy - These gel straighteners help reduce friction and pressure between the toes by keeping them aligned while moving.
 Soft, flexible comfort - Made with a silicone gel, these corrective corrective bunion adjusters are lightweight, stretchable and slip between numbers with supportive comfort.
 Supporting all-day illumination - It can be worn at night or during the day while wearing tennis shoes, heels, boots, and other footwear.
 Universal & Unisex - Both men and women can enjoy a proper bunion treatment with these silicone gel palms that extend to fit your personal foot size.
 Stain and odor resistant - These gel cushions are made of medical silicone that offers good orthopedic support and is resistant to stains, sweat and odor.
BEST GIFT FOR YOUR LOVING MOTHER ❤
HERE ARE OUR CUSTOMER REVIEWS
"I just bought this foot corrector for my mother as Mother's day gift. She has serious bunion problem which always feel painful when wearing the shoes. We had tried this and it is helpful to wear whole the day ! looking forward to seeing the progress of my mother."- Linda H.
 "I didn't schedule an appointment with a podiatrist until the pain in my right big toe had morphed into an excruciating jolt that shot through my foot with every step I took. My orthopedic surgeon told me that it is bunion. Hopefully this will help me to relieve the pain, and I hope a bone saw and screws are not the only lasting solution for me. Don't wait too late to protect your toes!"- Sally K.

PACKAGE INCLUDES
1 pair x Bunion Corrector
100% SATISFACTION GUARANTEED OR MONEY BACK
FREE shipping worldwide on all orders. ✈
Risk-free 7 day guarantee 🔒 
24/7/365 ticket and email support. 📧