"Here's Why Every Household Should Have A Firework Diffuser"👇
What Is An Aromatherapy Diffuser?
Our firework diffuser is a state-of-the-art humidifier, designed to purify the air you breathe, while giving-off a delicate, pleasing aroma. 
Simply fill the machine with water, to enjoy some of the cleanest air you've ever experienced, or add a few drops of fruit, or plant-based oils to fill the air with an aromatic, pleasant smell.
Why You Need An Aromatherapy Diffuser In Your Home? 🏠
 IMPROVE THE AIR QUALITY

Use it to cover the smell of pets or smoking, and protect you family from excessively dry air, microorganisms, allergens, dust, and more! A healing effects of nature to boost calm, and boost your immune system to keep bacteria away .😉
 RELIEVE COLD & FLU SYMPTOMS
If the air in your house is dry, try to use a mist humidifier with essential oils can moisten it to help ease congestion and coughs due to colds & allergies. (Peppermint & Eucalyptus)
 AIDES A GOOD NIGHT'S SLEEP 
A diffuser can help you relax, creating the perfect sleeping environment. 😴💤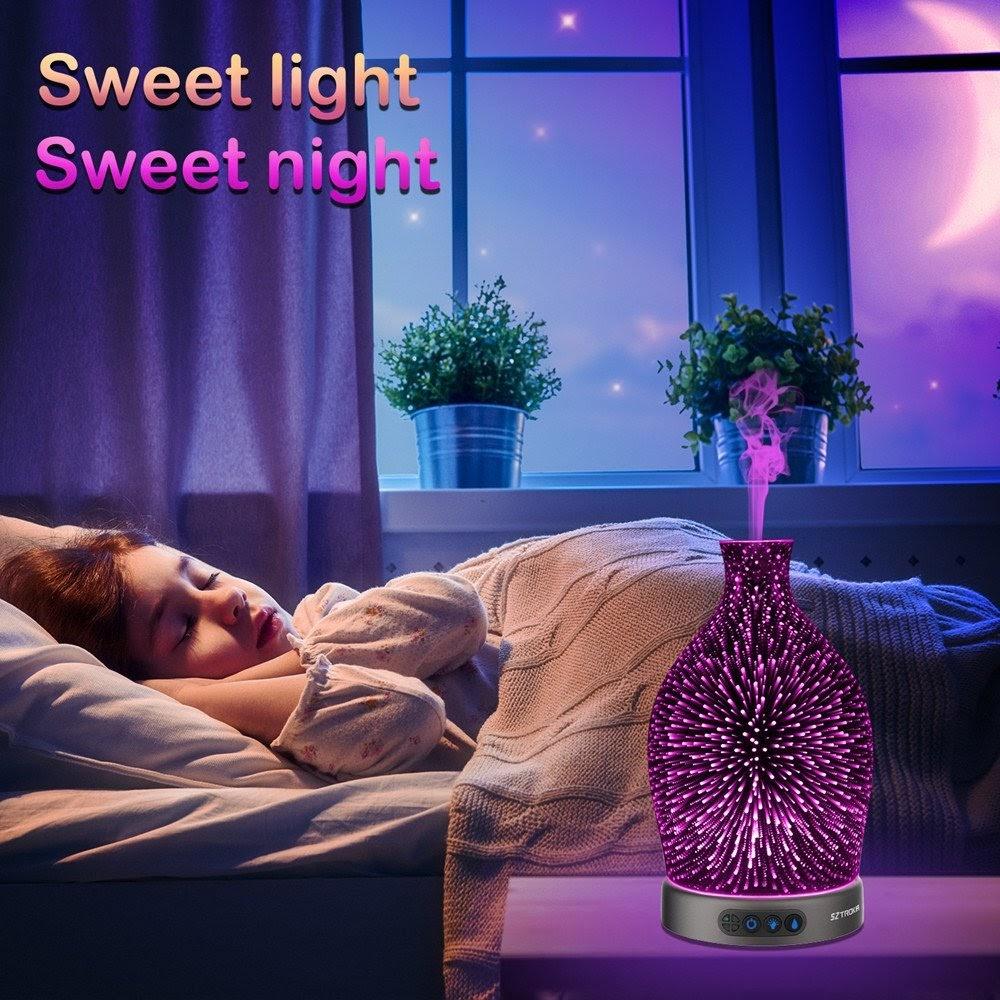 ENHANCE & IMPROVE AROMATHERAPY 
Aromatherapy able to help with pain, sleep, stress, anxiety, and more. Relax and enjoy the various health benefits of aromatherapy. Reap the benefits of a luxurious spa, while in the comfort of your own home! 
 3D LED EFFECT NIGHT LAMP
Our firework diffuser looks like a frozen firework, changing an array of colors as its LED lights shift through 6 colors. It's Pink, Yellow, Blue, Green, Aqua, and White lights create mesmerizing shades as they change and blend. 
If the color changing keeps you up at night, or is just too distracting to work next to, just press the LED Light Button on the right until you find your favorite color. Each color will have two settings to choose from: Vibrant and Pale. If you need to turn the lights off while still humidifying the room, just hold down that Light Button on the right for 3 seconds!
SEE WHAT OUR CUSTOMERS SAYING
"Absolutely perfect for my sleep became better and smooth my next day. I will recommend it to my friends!"- Sarah E.
COMMON QUESTIONS
✅ Is it a cool mist?
Yes, it's cool air coming out. It will run about 4-8 hrs continuously.
✅ Which oil brand do you recommend for pet lover?
For pet lover,we recommend you to choose essential oil that having more gentle smell and comfortable, such as lavender, peppermint, chamomile, clary sage, marjoram, frankincense carterii, Myrrh, valerian, ginger, cendarwood virginia.

Otherwise, our diffuser also work well with plain water only.
SPECIFICATIONS
Material: Hand Made Glass

Base Material: PP + ABS, BPA Free
PACKAGE INCLUDES
1 x Firework Diffuser

1 x Charging Cable

1 x User Manual
100% SATISFACTION GUARANTEED OR MONEY BACK
FREE shipping worldwide on all orders. ✈

Risk-free 7 days guarantee 🔒 

24/7/365 ticket and email support. 📧